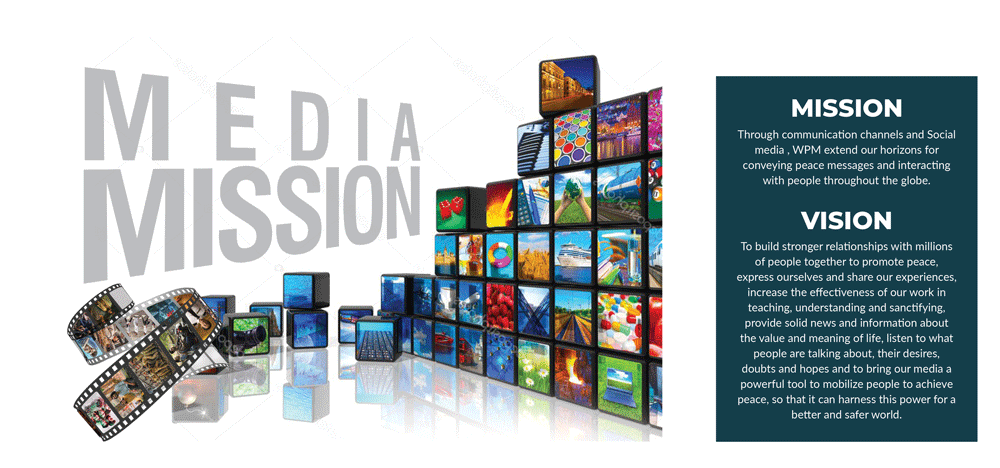 MISSION 
Media - The most powerful tool of communication
Through communication channels and Social media , WPM extend our horizons for conveying peace messages and interacting with people throughout the globe.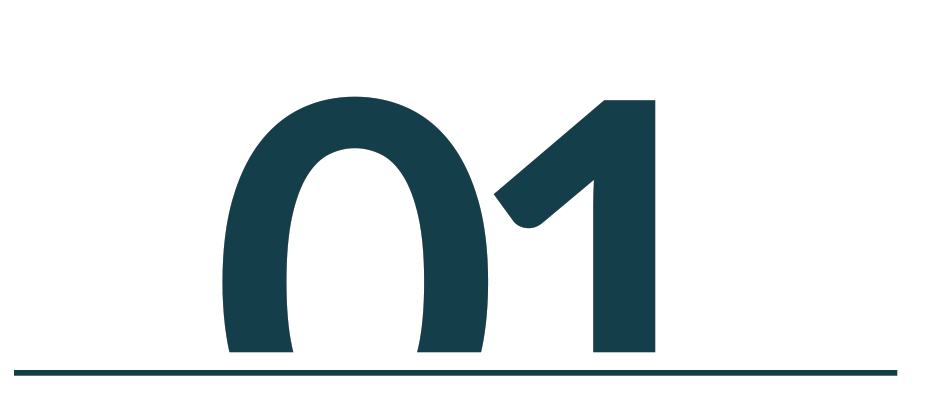 FILM FESTIVAL
WPM arranges film festivals to promote peace. Our main mission is to participate in making a more peaceful and better world through good films so people can aspire for a higher quality of life. It helps to maintain intercultural relationships for better acceptance and deeper understanding of people and the diversity of life.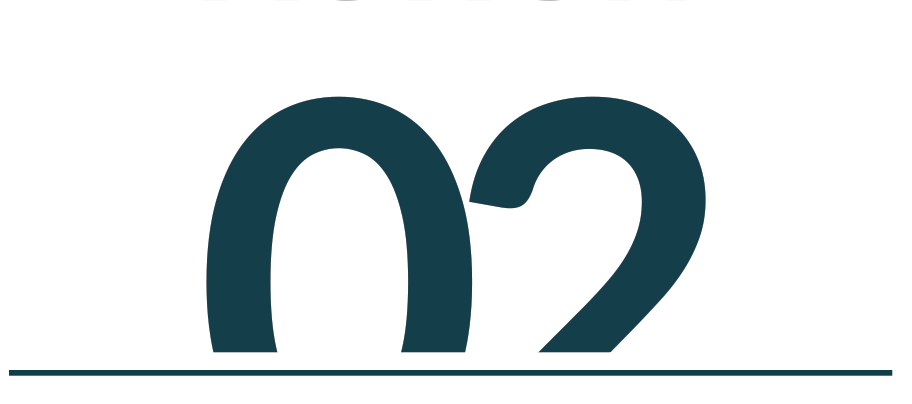 WORLD PEACE TV & RADIO
World Peace TV broadcasts news, entertainment, children's shows and music, as well as motivational programs and we have a 24hr online radio. It is considered as a means for reconciling people, fostering relationships among nations and promoting mutual understanding.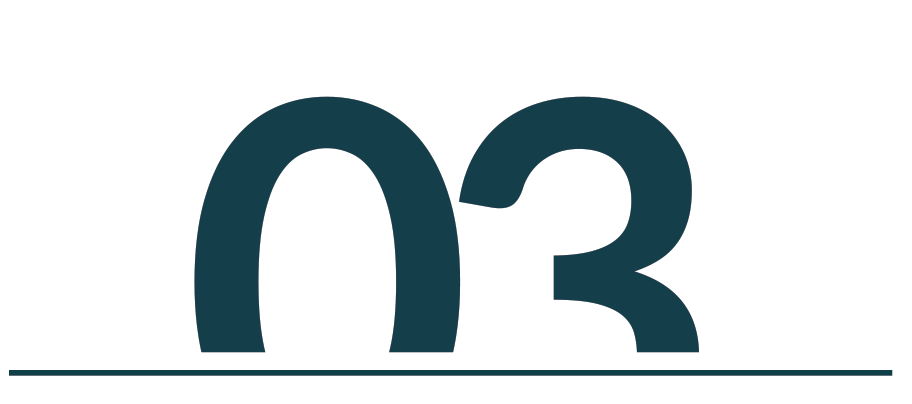 SOCIAL MEDIA
Social media play an important role in promoting the activities of WPM.Through Twitter, Instagram and Facebook people can also share their ideas and experiences relating to human wellbeing or personal activities and discuss how to promote peace in the world.

PRINT MEDIA
WPM aims to train, especially children aged 1 to 12 years. We know that the media influence the minds and behavior of young people. Through this media we help to bring together youth to create their own work and involve them in providing powerful peace building messages, so that they can grow up with an open mind towards other cultures and religions. Thus they strive for right values, and learn how to respond to violence and to promote values of tolerance.

NEWS PORTAL AND BLOG
The online newspaper ' Pravasi World' reports important news around the world. It concentrates on news, especially which affects humanity, issues of injustice, and peace based on our mission. Media and technology can save lives, respond to violence and crises.WPM also has a blog. We are in the new generation of peace builders who have the knowledge and power of the media to make a difference to the world.

YOUTUBE VIDEOS
These videos are motivational and inspirational. There are yoga and meditation videos which can be used for therapeutic purposes for various emotional issues, helping people identify underlying issues connected with themselves or others. The videos help grow in awareness that peace is possible for individuals across the planet.
Action
peace garden inauguration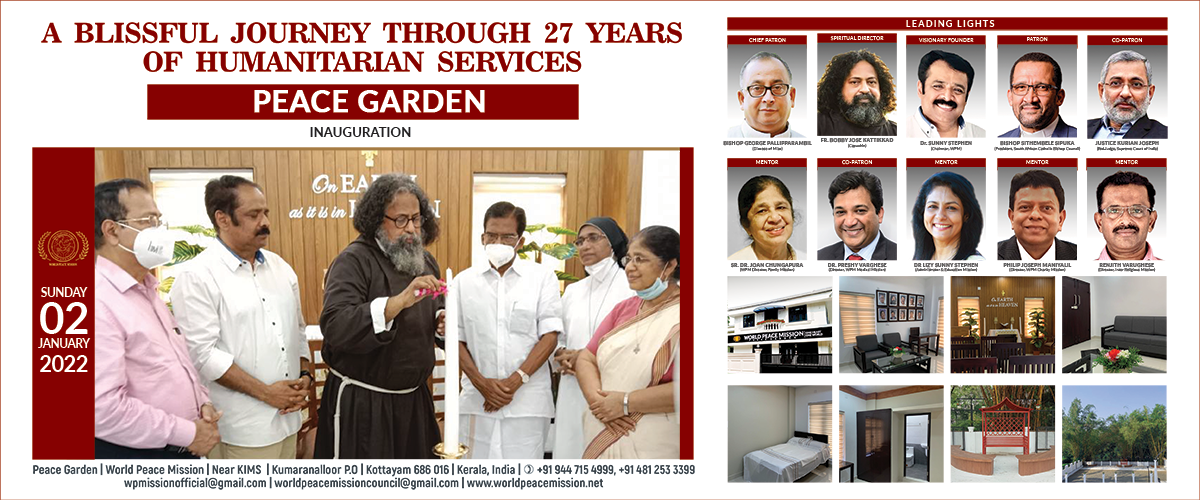 MISSION
To share our love, peace, compassion and friendship with people all around us irrespective of their origin and admitting everyone into our fellowship without prejudices or judgment, and with sincerity and faithfulness.  
VISION
 "On earth as it is in heaven" – humanity is one family; live and let live without walls separating people.
AFRICA
World Peace Mission
House No: 7
Ikwezi Lokusa Rehab Centre
EASTERN CAPE 5099
Mthatha , South Africa
AUSTRALIA
1 Kershope view
Clyde north 3978
Melbourne
CANADA
6106 Milbed Crt,
Niagra Falls
On L2H0J4,
Canada
 EUROPE
17,Careyroad,
Bournemouth
BH9 2XB.
 GERMANY
Geildorferstr.
33 50321 Brühl
Germany
NEW ZEALAND
12 Ropere Street,
Huapai, Kumeu,
Rodney district,
Auckland 0810,
New Zealand
SWEDEN
Kastvindsgatan
1 Lgh 1802, 417 14,
Göteborg,
Sweden
SWITZERLAND
Wannetal weg-
13 3326 ,
Krauchthal Bern.
Switzerland.
UAE
MF08,
AL GURGH Apartments
Oudmetha, Dubai
USA
1650, Park Ave
Newhyde Park
NewYork- 11040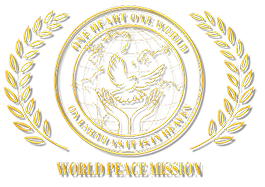 World Peace Mission
Ettumanoor P.O Kottayam 686 631 Kerala, India wpmissionofficial@gmail.com worldpeacemissioncouncil@gmail.com
Contact Info
Office : +91 481 253 3399
Enquiry :
 +91 4812533399
Family Counselling :
+91 944 715 4999 
Students Counselling :
+91 974 583 0910
copyright
Copyright@2021worldpeacemission.net All rights reserved
Copyright@2021worldpeacemission.net All rights reserved