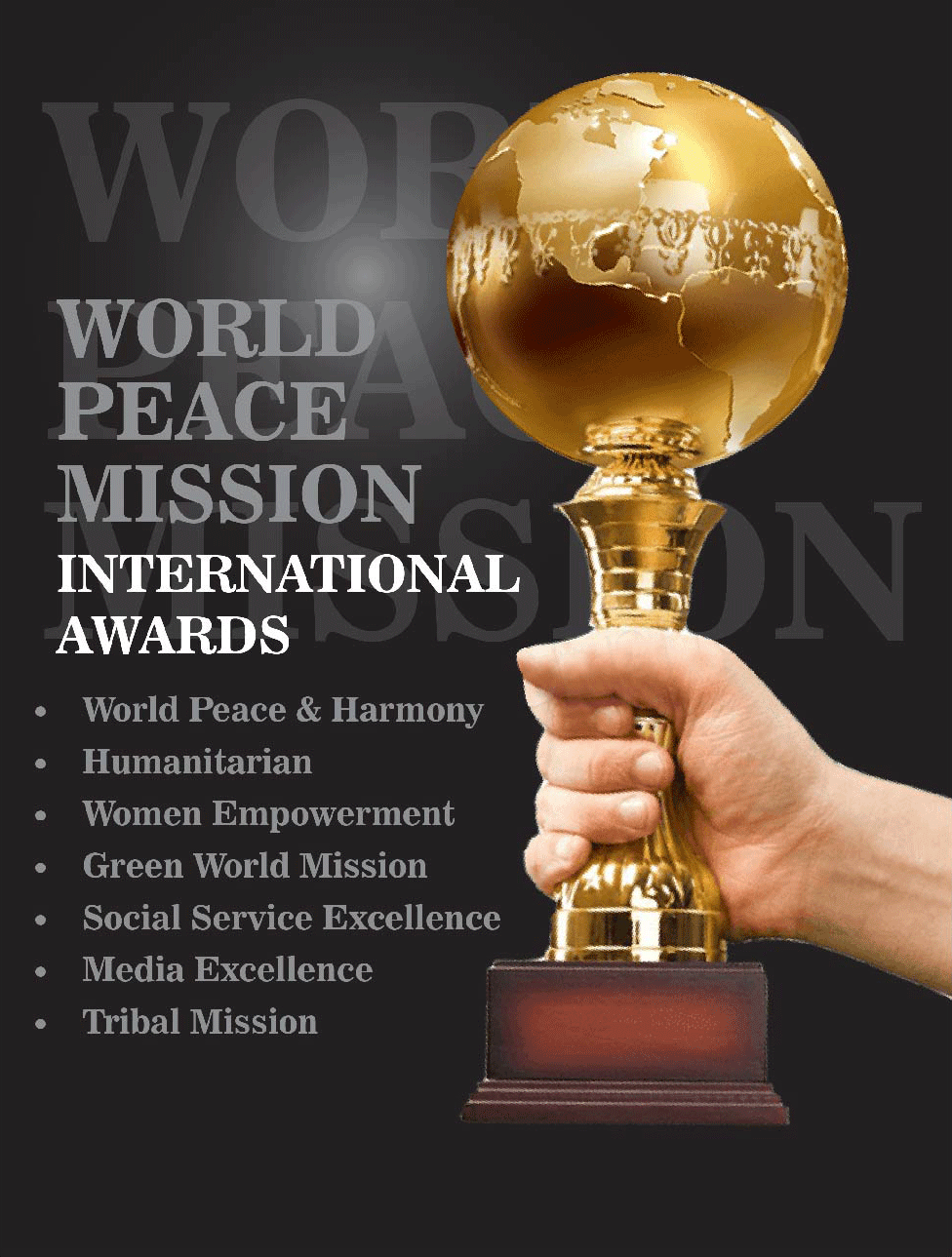 Awards
Confer World Peace Mission Academy awards on humanitarian workers who crossed the boundaries of the world to render their selfless services.
Awards include: 
1 World Peace & Harmony Award,
2 Humanitarian Award,
3 Women empowerment Award,
4 Green World Award,
5 Social Service Excellence Award,
6Media excellence Award
7 Tribal Mission Award
World Peace and Harmony Award
WPM offers this award for individuals and organizations which have made a significant contribution to promoting, seeking, safeguarding or maintaining peace within their communities, region, country or worldwide. We look for extraordinary creative achievements in promoting tolerance, as notable models for others in the field of peace-building. Our motive is to honor and bring attention to the work of peacemaking and peacemakers in the world.
Humanitarian Award
WPM would like to honor individuals or organizations with this award for their outstanding contributions and exceptional courage in standing up for one's beliefs in the defense of human rights and service in the sense of community service, public service or selfless service. This award aims to recognize an individual or organization for rendering dedicated services with selfless devotion in humanitarian causes and public service and for the uplifting of the society.
Women Empowerment Award
WPM honors an extraordinary woman who leads by example, lives on purpose and inspires others to be more and do more. She should be one who chose to be courageous in spite of their circumstances and have risen above doubts to achieve extraordinary things. With courage, confidence, commitment, and integrity, she inspires others to go further, making a ripple impact across her community and around the globe. We are moving the needle to recognize the achievements of women making an impact locally, nationally and globally.
Green World Mission Award
WPM intends to give this award to individuals or organizations who give direct contributions to the preservation and restoration of the environment, food security and poverty alleviation through conservation and sustainability of natural resources. The efforts that have had a significant impact on preserving the world's natural heritage and can serve as a model to others are highly regarded while considering for this award.
Social Service Excellence Award
WPM gladly presents this award to honor persons who are making significant contributions to their community through their time, actions, talents and dedication (outside any volunteer work done for their employer).  The honoree selected should serve as a role model for compassion, and service and be striving to make the world a better place. He/ she should have a passion for helping others in his/her community. Persons being nominated for this award will have consistently demonstrated qualities of compassion, and service to either one organization or a variety of volunteer activities in one year.
Media Excellence Award
 Media Excellence Award is instituted to honor those who create ground-breaking technology to better our lives & celebrate the hard work, determination, perseverance, creativity, impact and brilliance in the leadership through the media and technology that they are a part of. They should lead by example in promoting public awareness on social and environmental issues and have an all-embracing role to act against the injustice, oppression, misdeeds and corruption of our system.
Tribal Mission Award
Any individual with outstanding contributions to promote the safety, financial security, education, physical and social health of local tribal communities and individual members of a tribal group will be honored with Tribal Mission Award. Their work should prove to improve the quality of life of individuals and protect the women, children and elderly from abuse and neglect.