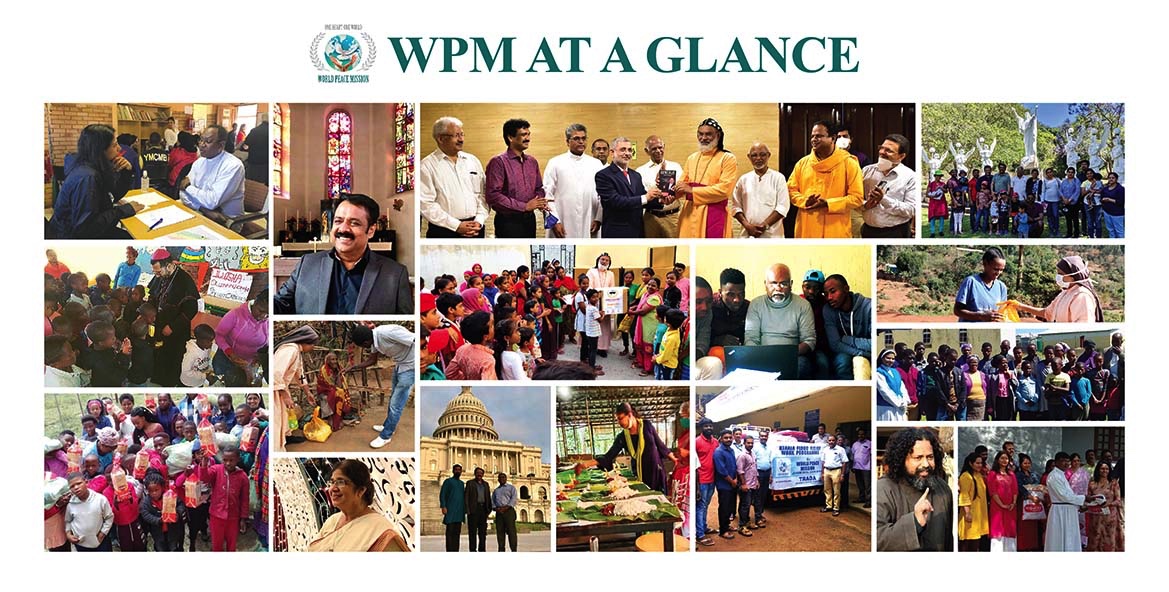 The world has always stood in need of healing, goodness, love and compassion. World Peace Mission which hit the scene 25 years ago had been motivated by one aim – "One Heart, One World" and its project was to establish a boundary less world, and to teach, preach and to enlighten that world. In 2020, World Peace Mission is completing 25 years of service.
World Peace Mission founder and Chairman Sunny Stephen who is a missionary of world peace, human right activist, compassionate ministry and musician all rolled into one has been spearheading the drive to establish the organisation in more than a hundred countries worldwide.
World Peace Mission workers have been engaged in compassionate projects for social uplift with a deep commitment to its ideals, but always within the parameters of local regulations. Today, World Peace Mission has been actively working in such diverse areas as family enrichment program at the grassroot level, drugs and alcohol deaddiction programmes, cancer and palliative care and similar socially useful projects. Moreover, in different parts of the globe, World Peace Mission workers provide food for the hungry millions and shelter for the homeless simultaneously providing them with food kits. In the tribal belts of several countries, World Peace Mission arranges medical camps under the supervision of specialist doctors who give free medical advice and consultation, free medicines and highly beneficial awareness classes.
World Peace Mission reaches everyone everywhere who stands in need of help such as literacy classes for the illiterate, women empowerment, the provision of additional measures for their safety and livelihood, working as volunteers to help in times of emergencies, and organising training camps for young people and staying by their side as they grow up into mature adults. Counselling is provided to them through the agency of experts in information technology. World Peace Mission stands ready to jump in and save humanity at every turn wherever man faces crises of all sorts.
Besides, World Peace Mission organises interreligious gatherings, and green world mission seminars at school-college levels, and in collaboration with TRADA under the guidance of Martin Luther Christian University. It also serves as the focal point for social workers of World Peace Academy, and arranges certificate courses for those who are interested in social work, and sends those who successfully complete these courses for field work in various realms of social development; thus World Peace Mission has been completing a quarter-century of dedicated service to humanity.
WPM: 25 Years in Service of Peace
| | | |
| --- | --- | --- |
| • 1995: A gathering of 12 committed persons, under the leadership of Sunny Stephen, came together on 09 January 1995, to form "World Peace Mission". The driving force behind this undertaking was the idea that no matter what your creed, caste, colour or background, you can love, share and respect one another and build up a community for peaceful cooperation. |   | • 2009: This was the year to get to know other people's cultures and lifestyles by arranging socio-cultural programmes in different countries. |
| • 1996: Organized seminars and camps in schools and colleges under the banner of "One Heart, One World". While adhering to one's own faith system, one also needs to respect others' beliefs and practices, thereby shunning religious fanaticism, and creating an atmosphere of religious freedom for all. This idea caught the fancy of young people of college-going age. |   | • 2010: Not every student is fit to pursue higher education. Seeing the truth of this fact, WPM selected deserving students, and arranged specialist training and financial support for them. |
|  • 1997: This year marked the start of Family Mission. Family Mission concentrated its attention on conducting family enrichment programmes, awareness classes for couples, seminars for youngsters to promote goodness and value systems and family counselling. |   |  • 2011: The time had come to promote World Peace Mission programmes in African nations, and therefore, WPM started its ministries among the African people. These included the provision of free food, medical camps, protection of AIDS-affected children, and allied services |
|  • 1998: "Music Message" was the musical branch of World Peace Mission that came on scene this year and endeavored to provide educational support to poverty-stricken students. It was an unprecedented project that directly and through newspaper ads roped in 1,820 collaborators from all over Kerala who visited houses, distributing musical albums. It proved doubly beneficial in the sense that it offered a means of livelihood to these persons and at the same time it offered a source of income from the sale of the albums for educational support to poor students. Within the last 15 years, World Peace Mission has extended support to 18,000 students. |   | • 2012: "Art of Peace" was the banner under which retreats and meditation classes were organised in different countries. The target audience was young people who were given classes through family counselling and orientation programmes to stay rooted in compassion, truth and love and to lead successful lives while at the same time upholding moral values. |
|  • 1999: The highlight of the year was the organisation of life-support programmes in different tribal belts of Kerala and the provision of health-care services. |   | • 2013: World Peace Mission started its "Career Care Support" programme to guide youngsters to choose their careers wisely. |
|  • 2000: The turn of the millennium witnessed the idea of extending the activities of World Peace Mission to foreign countries with a view to providing services to deserving people everywhere |   |  • 2014: A nurses' community, titled 'Angels of Mercy' started functioning under WPM auspices. |
|  • 2001: Plans were set rolling for the empowerment of women. To ensure their empowerment on a practical plane, special seminars were organised at the district level to give women specialised vocational training so that they would feel confident to make their presence known in mainstream society and achieve satisfactory growth. |   | • 2015: A news portal was started for the benefit of the Indian diaspora. It is named pravasiworld.in |
|  •  2002: "WPM Social Justice" was started to strive for social justice for the socially downtrodden, and to make free legal advice available to such people. |   |  • 2016: World Peace Radio was the name of an offshoot of WPM. It is an online radio programme that makes it possible to share knowledge and experiences among its audiences. The radio helps spread the message of peace, love and mercy in the minds of people who are otherwise pre-occupied with numerous commitments in the journey of life. |
|   • 2003: The focus this year was the WPM campaign against alcohol by organising awareness classes and distributing leaflets highlighting the evils of alcoholic consumption. |   |  • 2017: A prayer line, to promote world peace, and to pray and meditate together, came on stream this year. |
|   • 2004: East or west, nature is best. This thought informed the volunteers of WPM this year who decided to campaign for the protection and preservation of nature in its pristine purity. The campaign assumed the title of "Green World" which saw a massive effort in this direction. |   |  • 2018: The year witnessed several natural disasters which called for immediate relief measures. Drawing inspiration from such emergency situations, WPM volunteered to serve as relief workers under its 'WPM Disaster Management Ministry'. Its motto is the unquenchable quest for peace that lasts. Peace has to start with individuals, grow in families, work in communities, and stay afloat throughout the world. |
| • 2005: Another area that called for immediate attention from WPM volunteers was the huge incidence of cancer at an unprecedented scale. WPM collected and distributed aid for the treatment of cancer patients. |   | • 2019: This year has set in motion the World Peace Academy. The Academy operates in collaboration with the TRADA Institute of Social Sciences which is affiliated to Martin Luther Christian University. This university has the approval of the University Grants Commission. World Peace Academy prepares youngsters for projects that promote the common good in more places through family counselling that ensures social good, as well as through social work, de-addiction therapy and psychology. These prepare students for degree/diploma courses both directly and online. The final aim is the greatest good of the largest number. |
| • 2006: WPM winged its way overseas and set up World Peace Mission Communities in various countries. |   | • 2020: "One Heart, One World" is the title of short films and documentaries that are prepared in different countries with a view to get young people to compete in such projects. The plan is to offer wider recognition to deserving films, and through social media ensure their wider circulation for social good. |
|  • 2007: "Manna" was the title of the WPM project to provide food for the poor on a large scale, which was renamed later as "Five Loaves of Bread". Currently, WPM serves the needy and underprivileged under the project ' "Food and Education Respectfully". |   | • In celebration of the 25th anniversary of WPM, what is in wraps is the provision of World Peace Mission Awards which will comprise the following divisions: (a) WPM Peace and Humanitarian Award, (b) WPM Academician Award, (c) WPM Award for Media Excellence (d) WPM Award for Excellence in Social Services (e) WPM Women Empowerment Award. |
| • 2008: People living in orphanages, girls' towns  and old age homes have to keep their self-image intact. WPM provided financial support to such institutions. |   | • In consultation with the UN Peace-Building Commission, we were able to distribute a book titled "Essence of Life", among elders and children in all 195 member countries of the United Nations. |
|   |   |   |
 Projects Visualised for 2020, Silver Jubilee Year
 • Confer World Peace Mission Awards on humanitarian workers who crossed the boundaries of the world to render their selfless services.
 
 • A book – "Essence of Life" (a complete book of life skills)- is getting ready for worldwide distribution. Its avowed aim is to make available education for children everywhere along with firm grounding in moral values.
Author: Sunny Stephen
 • Arrange an international film festival comprising classic cinemas from different countries which promote the idea of One Heart One World.
Festival Director: John Paul
 
 • Start nature Tourism, inter-religious pilgrimage and socio-cultural program in collaboration with International Pilgrimage Revolution (IPR).

• Conduct an international short-film competition on the concept of "Love, Peace and Mercy Share with Your Neighbour", with the cooperation of international assemblies of young people. Online Short-film competition
Director: Bejoy Cherian

 
•The dream project "Housing for the Poor" is currently on at various stages of execution.
Project director: Philip Maniyalil
• Start a free legal aid forum for the poor and downtrodden people of the world.
 
• The music album – Music for Meditation – is in the pipeline.